Boys bowling, poms compete at State
Hang on for a minute...we're trying to find some more stories you might like.
Saturday, January 21, was a busy day for LTHS athletics, with seven of Lockport's eight winter athletic teams competing in events. The boys bowling and competitive dance/poms teams were among them, competing in sectional competitions.  Both teams finished in 4th place, not the 1st place they had desired; however, it was enough for both teams to advance to the IHSA State Finals today and tomorrow, January 27 and 28.
This season, the bowling team started out rough, losing four of their first five meets, but they quickly rebounded to win all of their remaining meets. They also won two invitationals during the season and in one, according to head coach Ron Davis, they "destroyed" Stevenson, the defending champions.
"The fact that we are going to state is incredible. I absolutely think we have a shot at winning," said Davis.
If they do, it will be the first state championship since 2013. Senior Andy Sims said, "[The season]'s been great. We made it to State, and now we have to make the most of it."
The boys hold practice and home meets at Strike and Spare, where they bowl three games every day for practice.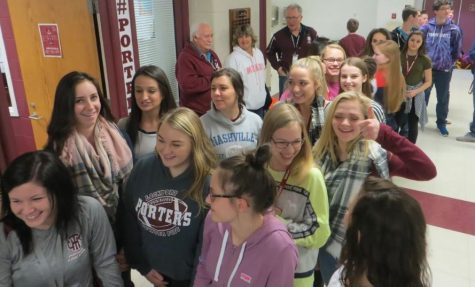 They also work on spares a lot, where they intentionally aim to miss a few pins. Davis also works with individual bowlers on any problems they may have. To prepare for State, Davis got the Strike and Spare maintenance team to change the oil pattern on their lanes to match the pattern used by the IHSA last year. Most people don't know that different oil patterns exist to make the lanes slippery. The IHSA won't release the pattern for this year, so Davis said that the last practice before state was very important.
"This team is young," said Davis. "Only two seniors and even a freshman on Varsity. For comparison, we had eight seniors on the 2013 championship team."
"The past few weeks, the team and I have been under-performing for sure," said Sims. "Not all of us have been throwing real good. We've been struggling with the feel of the ball, but I think we've had a really constructive week of practice when it matters the most, and I think we'll be okay."
As for competitive dance, they are hoping to win State for the first time since 2000. However, the sport was not officially recognized by the IHSA until five years ago, so the Portrettes have yet to win an IHSA title. This year was a little rocky for them: they haven't won a single competition this year and are hoping for better results at State.
"They've done really well at all our competitions. Their scores are improving, and they're doing great," said Poms co-coach Julie Rolston. "Our goal was to get to State, so I definitely think we're at the level we want to be at. Our new goal is to get to Day 2."
Rolston says that the girls practice four days a week on their routine to try to perfect it in time for the next competition. They've stepped it up recently to prepare for State, and they will need it. Thirty teams were sorted into Class 3A, one of them being Lockport, and only the top twelve will advance to Saturday. They have their work cut out for them, but they are hopeful that they can advance.
Good luck boys bowling and competitive dance at State!

Boys Bowling:
Ron Davis (Head Coach)
Alan Bean (Assistant Coach)
Roger McDaniel (Assistant Coach)
 Andrew Bean (Sophomore)
 Alec Buchaas (Junior)
 Ray Bufka (Freshman)
 Caleb Derrig (Sophomore)
 Jimmy Rozhon (Sophomore)
 Andy Sims (Senior)
 Dylan Smith (Junior)
 Joe Wagner (Senior)
Competitive Dance:
Julie Rolston (Co-Coach)
Kerri Elkei (Co-Coach)
Brooke Bellair (Junior)
Morgan Bruecks (Sophomore)
Maddy Christopher (Freshman)
Emily Clark (Senior)
Ashley Doyle (Junior)
Sydney Engberg (Senior)
Hannah Gallagher (Sophomore)
Jacki Greci (Senior)
Elyssa King (Junior)
Evie Labus (Freshman)
Lauren Mateja (Freshman)
Samantha McWilliams (Sophomore)
Madison Ogrey (Sophomore)
Alyssa Pichardo (Sophomore)
Skyler Schnell (Senior)
Kailey Shea (Freshman)
Maddy Smietanski (Junior)
Cara Wiemeyer (Senior)