Staff Spotlight
Staff Spotlight is Lockport's way of bringing recognition to staff members who stand out to students, and who truly make a difference! Shining a light on these staff members helps take their acts of kindness and pay it forward by sharing with the community. Our first staff spotlight for the year:
Lockport's Latest Staff Spotlight!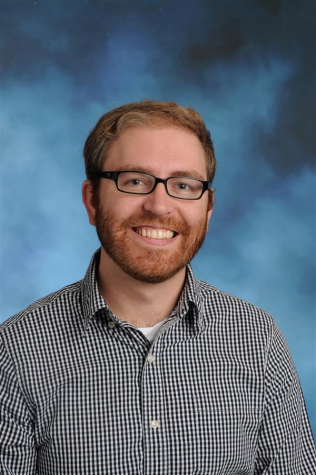 Nathan Spreitzer
Written by: Georgia Dykstra, News Editor
Mr. Spreitzer graduated from ISU in 2013 and went into teaching shortly after that. He's been teaching at LTHS for 3 years now.
1. Can you give me a brief description of your childhood and educational experience?"I grew up in the small town of Manhattan, IL and went to Lincoln Way Central for high school. Following my high school education, I went to Illinois State University also known as ISU. I took my education seriously and participated in cross country and track, and by my senior year I knew I wanted to go into education."
2. What got you interested in education?
"I found, in high school especially, that there were some teachers that really inspired me and encouraged me to do well in school and be successful in life. I credit part of the reason I took school as seriously as I did and enjoyed it as much as I did to some of my teachers and the way they interacted with their students. I find lots of inspiration in them to continue on and create that opportunity and idea in the students that I teach. I really want to pass on that creation of a comfortable space and anxiety free area to just be while still learning for my students."
3. What got you interested in economics?
"Coming out of high school and into college I wasn't planning on going into economics. However, students studying to be a social studies teacher have to be able to teach the wide range of social studies courses offered, so I knew it was a possibility. During college, I specialized in History, especially that of the Cold War, but I spent a lot of time studying and mastering economics because I knew I had to be prepared to teach it. So when I applied for the economics position here at Lockport, I was and still am excited that I get to teach students concepts that are new to them and be able to relate what we learn in class to relevant events and ideas they experience in their everyday lives."
4. What is your thought process with regards to teaching and connecting with students?
"I prioritize creating a comfortable, stress-free environment for my students. I, of course, want them to succeed in the class and find that one of the most effective and best ways to encourage engaged learning is to create a space where students are comfortable asking questions and coming to me for extra help when they run into an issue. I also make sure to include a lot of real world events and relevant information that gives students the ability to apply the concepts they learn in the classroom to the current events of the world. I find this to be effective in engaging students in the lessons and it also makes the concepts easier to conceptualize."
5. Since you are the co-sponsor of the investment club, why do you find it important to teach students about it?
"Investment is one of those skills that you will use for the rest of your life, so I think that it is important to start investing and learning about investing as soon as possible."
6. Have there been instances where you've been impressed and/or surprised by your students?
"Students teach us every day. It ranges from new, interesting facts to just basic reminders of how life as a teenager really is. I think that as time moves forward and we get farther from that stage of our lives, adults tend to forget exactly what high school was like and teaching offers that refresher of students' perspectives."
7. What advice would you give highschool students, especially sophomores and juniors, as to the direction they choose to go with classes in the upcoming years?
"As for going about picking future classes and even a path for college and beyond, I highly suggest that students explore the variety of classes offered here at LTHS. Although I think that AP courses and honors provide good prep for college and boosts your GPA, I find it incredibly important to be interested in what you're learning and to explore those options that are possibly less traditional or typical of students today. And honestly, nobody remembers your GPA after high school, so stressing about that boost higher level courses give isn't always your best option. I highly suggest taking a look at our catalog and talking with our counselors and your guardian at home about what the best ratio of interesting to higher level classes for you would be. Remember, it's all about balance."
8. What role do you think mentality and attitude play in successful learning?
"Mentality is definitely an important part of not only doing well in classes, but learning to enjoy them. I often find that when students come into my classroom expecting to do poorly or expecting to hate it, they do. Most times, it's not because they don't have the ability to succeed or enjoy the class, it's because they have convinced themselves that there is no opportunity for growth or learning. I would suggest going into each of your new classes with an open mind and a willingness to work with the material and ask questions. Not only does it enhance your learning, but it engages the teacher as well and helps the flow of the classroom and elevates the lessons to a higher level."
9. What are your goals for the future?
"Right now, I'm planning on teaching, but I also want to further his education and become a better teacher and outlet for my students. I want to grow as an educator which will take time and support from those around me."