Staff Spotlight
Staff Spotlight is Lockport's way of bringing recognition to staff members who stand out to students, and who truly make a difference! Shining a light on these staff members helps take their acts of kindness and pay it forward by sharing with the community. Our first staff spotlight for the year:
Lockport's Latest Staff Spotlight!
Written by: Emily Thompson, Features Editor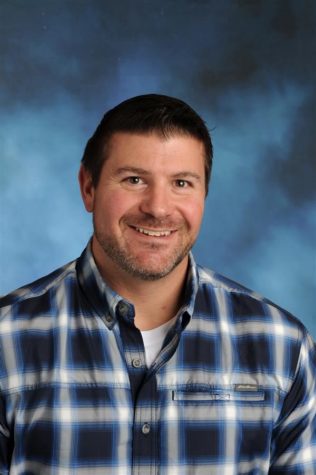 What are your jobs and main roles at LTHS? And what is your favorite part of your job and why? 

I am a PE Teacher and Head Girls Track Coach.  My favorite part of the job is honestly working with the students and seeing them do things they didn't think they could do.  It is so rewarding to know that you can be an influence in someone's life, where they take your advice and grow as students and people.                                                                                                                                    

When you were younger what was your dream job and why?

I always wanted to be someone who helped others, police, and being a fireman were on my radar for a long time, but my summer job as a camp counselor helped me move into this profession.                                                            

Was there a certain moment that made you realize you wanted to be a teacher? 

I think that the summer job as the counselor was very impactful because I was really doing a lot of the things we do as teachers with planning activities, calling parents, and working with kids.  I felt that I was able to make some connections with those kids and felt I was a positive role model for them, which felt so rewarding.                                                                                                                                          

What made you want to become head coach of the girl's track team?

When I was in high school, I felt lost for a long time, not knowing which group I belonged to, but when I joined the track team as a freshman, I felt like I had that place.  This sport has been a part of my life ever since, as a young, just out of high school

jumps

coach to where I am now.  I knew I would always coach, but when the opportunity rose to move up and mold the program into what I visioned, I jumped at the chance.                                                                                                                                              

Relating to track, what is one thing you have noticed that is different from this year to years past?

There are a lot of new girls this year which is awesome, but with the new, we also lost a good number of great athletes this year as well.  Covid has made this whole year different, but hopefully, we can see a more normal situation next year.                                                                              

What advice would you give your past self?

Absorb everything that goes on around you and learn from it.  Every person you cross in life can be someone who makes you better…both by good examples and not so good.                                                                                                                                      

How has your job influenced your life? Was there a certain moment that changed the way you viewed certain things?

I think that I am always thinking about how I can continue to make myself a better example for students.  I think the biggest impact in that area was when I got a random email from a student who thanked me for being someone who helped them through a really rough patch in their life, and that they never forgot my actions.  This was several years after they graduated, and it made me really understand how impactful we can be on students.                           

What are you most excited about for next year? 

I think that we have learned a lot through all this Covid mess.  As I reflect on how challenging the situation has been, I think about how grateful I can be for the things in my life and will appreciate how "normal" will feel again.                        

When you are stressed out what is your go-to coping mechanism?

I rely on exercise mostly.  I can put my headphones on and take it all out on what I am doing in the weight room or on the bike.  I can also find value in some of the imagery techniques that we have been teaching in PE.  I like to lose myself in a virtual "tropical vacation" as a way to escape for a while.                           

Who/what has influenced you the most in your life? (you can name a few people or things)

I have been influenced by a ton of people.  I feel that I have learned how I carry myself as a person from all my experiences in life, both good and bad. I have valued my father for his ability to provide for myself and my siblings after my Mom passed away when I was in high school.  He was a great example of work ethic and morals.  I have learned to be a better teacher from struggling in school and not having someone notice or care, which is something I hope my students never have to experience.