LTHS hosts 5th annual Veterans Night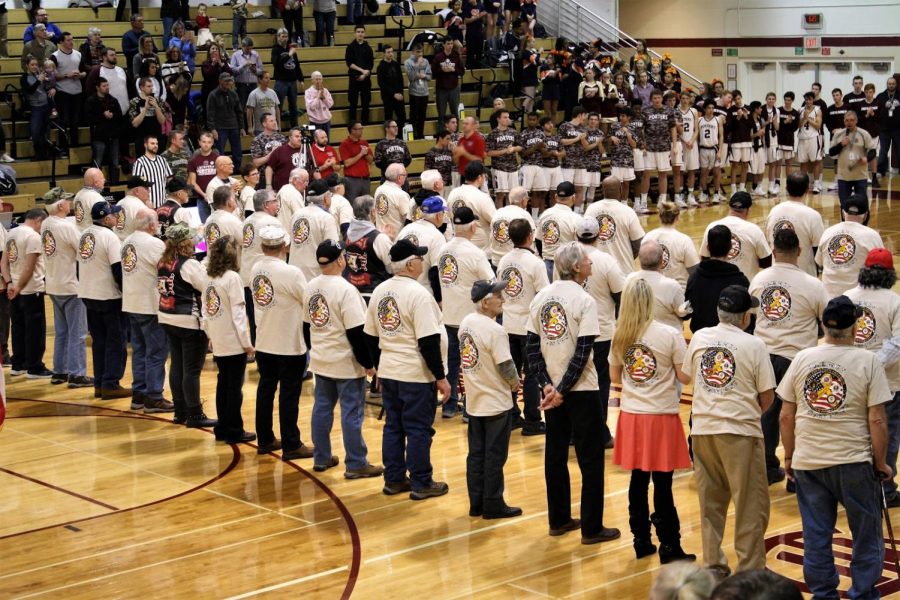 In the midst of busy schedules, it is often easy to forget about our freedom and the people who tirelessly fight to protect them. However, for the fifth year in a row, Lockport has put on a show to remember in honor of our veterans.
The Veterans Night Celebration, hosted during a boys' basketball game in the East Campus gym, took place on January 19th. The event, planned by five LTHS staff members, Mr. Zaworski, Mr. Kinning, Mr. Brown, Mr. Suleyman, and Ms. Grohn, paid their respects to 110 veterans, raging in age from mid 40's to 97 years old.
Due to inclement weather, 63 veterans were able to attend the event. The night was comprised of a series of events, including a performance from the Tinley Park VFW color guard and the ROTC Saber Team. The Saber Team also escorted all veterans back to their rooms at the end of the night and ensured the veterans were well taken care of.
Each veteran was introduced by recognizing the branch of the military they served in and the time they served. Among the 63 veterans in attendance, there were 5 veterans from the Korean War veterans and 4 veterans from World War II. The introduction to all veterans was followed by a standing ovation of over 20 minutes.
The event's fundraising efforts collected over $1,155 in donations. For an event that costs roughly $2,000 to put on, it was greatly appreciated by the staff behind the event to see the overwhelming support and respect for the veterans.
If you are interested in becoming a part of this event next year, students can sign up a veteran by contacting Mr. Zaworski at [email protected], clicking the link on the LTHS website at "Calling All Veterans", or reaching him by phone at 815-588-8591.
Honor Guard Service Members
Rich Anderson, US Army
Robert Baisa, US Navy
Marie Cooper, US Navy
Sarah LaPlante, US Air Force
Brian O'Connell, US Navy
Ken Wreezes, US Army
Air Force Service Members
Jim Brauch
Stephen Brown
Susan Brown
Wayne Buck
Tad Dymanus
Andy Kinne
Vic Maiorano
Kyle Radke
Niyazi Suleyman
Jim Wigginton
Army Service Members
Raymond Bargiel
Richard Burnett
Bob Champlin
Stephen Corcoran
James Green Jr.
Adam Halatek
Frankie Hatley
Jack Heath
Doc Koch
Steve Lotz
Michael Mirous
Jim Mott
Larry Palmer
Joseph Rozbesky
Bob Thompson
John Urbanowicz
Ed Wereldsma
Michael Zarembski
Jim Hudic
Marine Corps Service Members
Dave Cullen
Joe Czerkies
Michael Richard Gurule
Tom Huckaba
Jerry Kielian
Greg Munich
Phil Rittenhouse
Edgar Sanchez
George Sternisha
Carlos Velasquez
Chip Schmidt
Richard Franzen
Navy Service Members
George Graske
Tom O'Neill
Harry Onderwater
Lesly Velez
Veronica Konow
Kim McGraw
Korean War Service Members
Lloyd Lardenoit
Bill Margherone
Melvin Mueller
Arnold Painter
Bill Rusin
WWII Service Members
Joe Belman
Stanley Gubala
Samuel Krestel
John Atchison