Student Spotlight: Francesca Frieri
1. How has this season been going? Any major changes because of covid?
We have had a very strong start to our 2021 season. This is our first official season with our new head coach, Grainne Kelly, and she is amazing. Coach Kelly raises our team to new standards and pushes us to be the best we can be while maintaining a fun and relaxed environment. The girls on the team have really become my best friends and I love being able to spend every day with them at practice and games. It is definitely the type of team that you look forward to going to practice every day, not just because you love the sport and want to get better, but also because you love being with your coaches and teammates. As for covid, nothing has really changed except for wearing masks while playing but complying with the guidelines has not held us back from performing this season. I am so proud of the progress our team has made since the start of the season and I am excited to see what the future holds for us.
2. How long have you been playing lacrosse?
I picked up a stick in 4th grade and haven't put it down since. 
3. What position do you play? If you could change your position what would it be?
I play attack. I don't think I would ever change my position because I feel like attack is the position best suited for my abilities on the field. 
4. What is something this sport has taught you?
This sport has shaped me as a person entirely. The way I interact with others, attack my school work, and face obstacles all stems from the field. The sport has taught me that being a good teammate is important and making everyone feel important and validated. It has also taught me the value of representing my school and myself with pride and poise. It has also taught me to be adaptive and roll with the punches. On the field, you can't stop your play if the referees made a bad call or if you got thrown a bad pass, you just have to keep playing through to the next play. I think continuing to move forward and not dwelling on the past is another important takeaway from the game. On our team we always say "next play" because if you stop for a second to think about what went wrong in the last play, you're going to miss the one you are in right now. 
5. Do you plan on pursuing this sport in college?
Yes, I am verbally committed to play Division One lacrosse at the University of Notre Dame! I am tremendously excited to be able to continue my academic and athletic career there. Go Irish!
6. Are you in any other sports? If so, which ones and which one is your favorite? And if not what sport have you always wanted to try?
Lacrosse is the only sport that I have played at the high school level. I have always wanted to try golf though! I think it would be a cool sport to try. 
7. How many seniors are on the team right now? And has any senior really stood out to you in any ways throughout your LTHS lacrosse career? 
There are four seniors on our team right now. I think that each of the seniors have had a huge impact on our team, specifically, Malie Gurule who is always encouraging and continuing to push us to move past the little mistakes and focus on making the next ones. Abby Varkalis has been a wonderful advocate for getting girls to join the team and has always been so welcoming to the newcomers. Elle Mizwicki is a friendly face on the team who brightens the day of everyone around her, and Gabby Giardano is always adapting on the fly and pushing herself and those around her to be the best they can be. 
8. Through all of the challenges every sport is going through, what is something positive that has come out of this season?
I think that having a season in general has been a positive in itself. At the beginning of the year, we didn't even know we would be able to get a season and I think that has really pushed us to give 100% everyday at practice and not take anything for granted. I think what makes our team really special is that we don't view practice as being mandatory, we view it as a privilege. We get to see our friends and play the game we love everyday.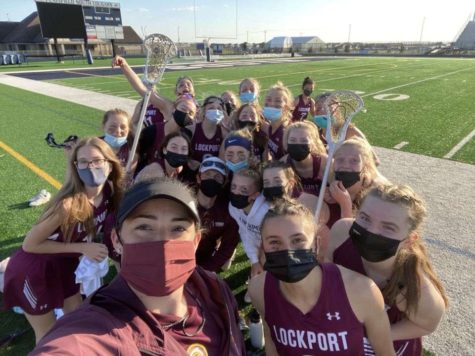 9. What is your pre-game ritual? If you don't have one, what is something the team does before every game?
Before each game, I get my hair braided by Brooke Kielczynski, another member of our Porters GLAX team. When we have away games, we love to turn the music on and jam out. 
10. What is some advice you would give to people who would like to try to come out for the team but just might be a little nervous? 
Some advice I would give to people who would like to try to come out for the team would be to embrace mistakes. For most of our team, it is their first year of ever playing lacrosse and one of the biggest points that we make on the team is that you should never take yourself too seriously because everyone makes mistakes, they are part of the game. I would definitely recommend coming out for the team to anyone considering playing. Something that is so unique about lacrosse is how the skills from other sports are so easily transferable. Most of the girls on our team are athletes from other teams and they are always surprised by how their skills are able to be applied in lacrosse.
About the Contributor
Emily Thompson, Features Editor
Emily Thompson  is a senior at LTHS and this is her second year in the Porter Press. She has been apart of other clubs at LTHS like art club, best buddies, ski and snowboarding club, NHS, and the National...