Will There be Major League Baseball in 2022?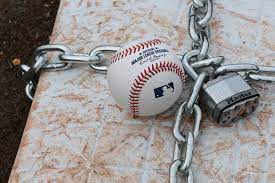 On March 1st, Commissioner of Baseball Rob Manfred announced that the MLB Lockout has yet to end, canceling the first week of regular season baseball. The MLB and MLBPA have yet to meet since the March 1st announcement. Players and fans alike are enraged by the inconclusive meetings that have been going on between the two organizations for the past four months. This lockout is the first of its kind in the 21st century, with the last lockout eliminating the whole 1994 MLB season.
The Lockout originated in December of 2021, with the ending of the five-year-long contract between the MLB and the Players Association, but they have yet to reach an agreement since that time. Because of the lockout, there can be no trading or playing of any sort. Blame has been spread on both sides, saying the players are asking for too much, many lives, and others blame Manfred and other owners for being too cheap. No matter which side you're on, everyone is desperate for a solution to come quickly, especially all the staff that relies on the season to pay their bills. The Chicago Cubs alone have over 5,000 employees, many of which will go without a position until the season starts. So, what needs to happen for baseball to go on? While it seems simple, the answer is going to take the MLB and the MLBPA listening to one another and finding common ground. The two parties have not done this for the past four months, or else there would be spring training games going on as we speak. Until an agreement is made, many lives are put on hold. Some say that the end is near, while others are not counting on an entire season, but that will only be determined when the two organizations decide to listen rather than fight.