Local Businesses Hiring a Porter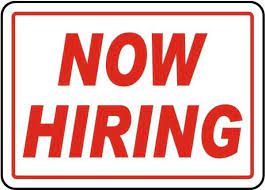 Looking for a job to start off the school year? These local businesses are looking to hire a Porter to help them out! Take a look at the list below to see which potential job best fits you. 
Culver's, Lockport. With a worker's permit, Culver's hires 15 and older. You can apply online or in person. Culver's is a fast-food chain restaurant that specializes in frozen custard and burgers.
https://apply.jobappnetwork.com/culvers/?category=&city=Northbrook&keywordsFilter=&state=Illinois
Tropical Smoothie Cafe, Lockport. If you are 15 or older, you can apply to work at Tropical. Tropical Smoothie Cafe is a smoothie and sandwich chain that is known for their healthy ingredients. https://www.tropicalsmoothiecafe.com/work-with-us/apply/
Mod Pizza, Lockport. Mod Pizza is another business that will hire 15 year olds. The starting pay is on average $15 an hour. Mod Pizza is a fast-food restaurant selling Pizza and more. 
https://modpizza.com/join-mod-squad/
McDonald's, Lockport. McDonald's is looking to hire a Porter who is 16 or older! This fast-food chain starting pay is $12 an hour. You can apply today. https://careers.mcdonalds.com/us
Chipotle, Lockport. Our local Chipotle restaurant is hiring! Porters 16 and above can apply. Chipotle sells all types of Mexican foods. If you like to cook, or want to learn, this job is perfect for you. https://jobs.chipotle.com/
Dominos, Lockport. This pizza chain is hiring a Porter 16 and older. The starting pay is $12 an hour. You can apply in-store or online. https://jobs.dominos.com/us/culture/
Jewel-Osco, Lockport. Our local chain grocery store is looking to hire a Porter! If you would like to work there you can apply now. https://www.job-applications.com/jewel-osco-job-application/
Starbucks, Homer Glen. Starbucks is looking to hire an experienced barista! If you love coffee and would like to work there, you can apply. https://www.starbucks.com/careers/
There are additional job options available at: https://www.lths.org/Page/2870