Civil Disobedience in China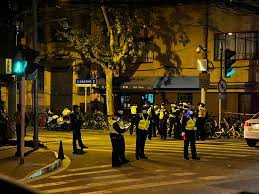 Written by McKenna Orrico, News Editor, Editor-in-chief
December 19, 2022
Citizens all over China have taken to the streets to fight the country's 'zero-COVID' policy. Since the beginning of the pandemic, the country's inhabitants have been subjected to China's ultra-strict rules in an effort to mitigate the spread of the virus. Some of these protocols have included strict enforcement by local authorities, mass testing nationwide, institutions like businesses, schools, etc. closed when cases are reported along with other measures. After nearly three years of compliance from Chinese citizens, they have finally had enough. 
As of recently, citizens have been finding their voices in the masses. Protests have broken out in some of China's largest cities fighting the strict regulations that have been put in place for almost three years. The exigence of these protests stem from a tragic fire in which 10 Chinese citizens died because of the sealed off exits in accordance to the 'zero-COVID' regulations. Through their actions, the displeasure of the current leadership has been widespread. The country's people have been calling for the resignation of Xi Jinping and the Communist Party. As this was China's first protest against the government in 30 years, they started to listen. In many metropolitan areas of China, mass testing requirements have been lifted in an effort to bring some peace and order to the cities. The events taking place in China have caught national attention from countries like the United States. Washington officials are keeping a close eye on the escalation in China, even offering to send COVID-19 vaccines which were turned down by Xi Jinping.
While China's goal of mitigating the virus may seem good, their prison-like system has cost the lives of many. A medical meltdown costs the life of many civilians including children because of the lack of access. The country has also put its citizens through a housing and economical crisis that have created poor living conditions across the country. After many failures from their current system, the citizens are standing up to a government that has controlled them for so many years.