Spring/Summer 2023 Fashion Trend Predictions
As the temperatures become warmer and the last bits of snow melt away, many people begin to wonder what they'll wear. Spring, the trickiest dressing season, transitioning from the harsh temperatures and intense layering of winter to the warmth and freeness of summer, will not seem so hard to navigate after this list of helpful trend forecasts to keep you from looking outdated. 
While it may be fun to participate in trends, this spring and summer, the fashion community is also collectively recognizing overconsumption and emphasizing conscious consumerism by building capsule wardrobes, with clothes that the consumer knows they can wear in multiple looks, multiple times. However, it's also fun to grab something new and try different clothing styles. Making sure to enjoy those trends in a conscious way is key.
This spring and summer, a variety of controversial styles like low rise and sheer fabrics will be all the hype as well as some classic spring and summer styles, like flowers, ruffle detailing, and pastel blue tones. Trends from the 2000's, which had seemed to become less popular, will make a comeback alongside fun hints of the 70's and 90's.
Cargo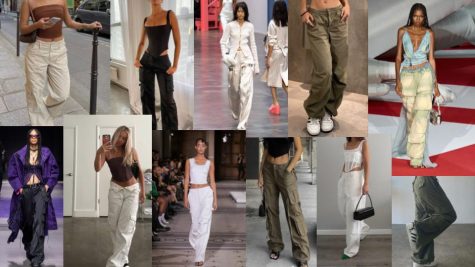 No one's surprised. Cargo pants have become a major style essential for a while, and are here to stay. Ever since their emergence in the 1930's British Army, cargo pants have never gone out of style. The mix of streetwear and military aesthetics on cargos only boosted their popularity, as this spring-summer season, cargos were seen dominating the runways of designer brands like Diesel, Coperni, and Fendi. This spring and summer, cargo pants will be seen often styled with feminine and dainty tops, perfect for warmer days. This spring and summer , I suggest experimenting with a pair of cargos to add a modern look to your everyday wardrobe.
Pointed Toes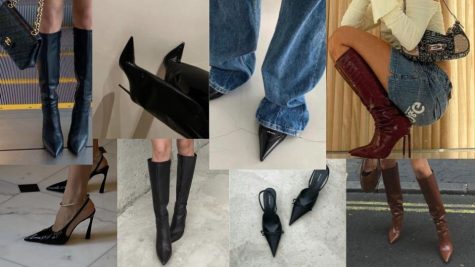 This season, the vintage look of a pointed toe heel will be everywhere, as it has been. Along the standard slingback heel, boots with pointed toes will also be worn, usually paired with a super skinny heel (ouch). Styled with wide leg pants and maxi and mini skirts, pointed toe heels could be just what you need for your spring-summer wardrobe.
Biker Jackets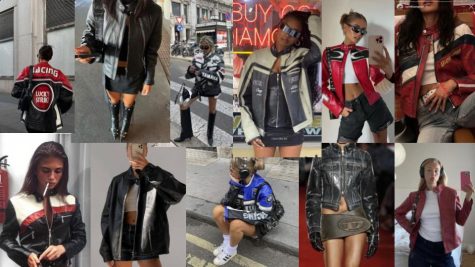 Giving a rich and vintage 90's touch to outfits, biker jackets popularity will only increase this spring. Baggier bomber jackets and more fitted moto jackets are now a closet essential. Jackets with distressed leather will help give a vintage feel many are seeking after. Biker jackets with vintage-esque patches or graphics can give an outfit a pop of streetwear while a jacket without them can serve a more elevated and minimalistic feel.
Off the Shoulder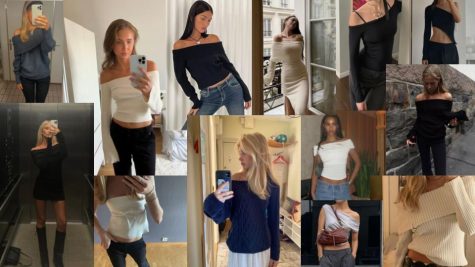 Sending you right back to the 2010's, off the shoulder  will return in a new and fresh way, giving the wearer a bit of skin show and feminine fun. Overall, off the shoulder tops will be more fitted than the ones from the 2010's, and will mainly be seen in long sleeve variations. One shoulder tops will be seen as well. Many off the shoulder tops, dresses, and sweaters will have foldovers for a touch of elegance and modesty and sometimes with straps peeking through. This cute trend can bring you some 2010's nostalgia while also making you seem much more fresh, fun, and cozy.
Low Rise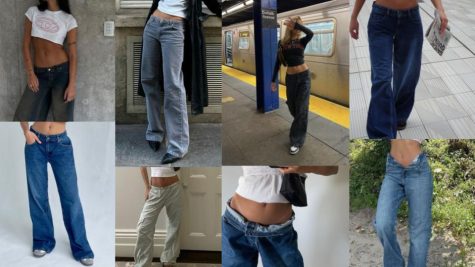 One of the most controversial trends on this list, the revival of low rise jeans and pants will continue throughout the spring and summer. The low rise pant offers the wearer a feel of confidence and freedom, with a hint of provocativeness, which has attracted young wearers, and pushed low rise jeans back into the limelight. While many women in their 20-30's may feel uncomfortable putting themselves back into a trend associated with the horrible culture of tabloids that once inhabited low rise jeans in the 2000's, the world has changed, and especially with social media and its wave of body positivity, anyone should be able to enjoy the trend no matter their size. So, find a flattering pair of low rise jeans, and enjoy the 2000's nostalgia while it lasts!
Baby Blue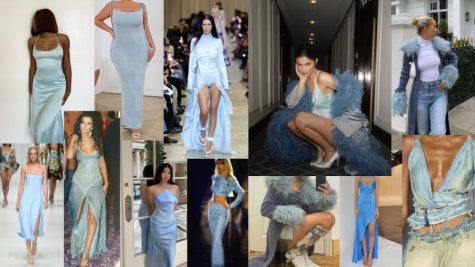 While vivid magentas and pinks dominated last year's fashion, this season will take it down a notch to a much softer and muted baby blue. This tranquil blue will be the "it" color for a while, as it perfectly resembles the fluidity and innocence of the mermaid-core aesthetic that will be quite popular this year.
Flat Sneakers
Say farewell to the chunky sneakers of the past and welcome the new, flatter sneakers of the present. These sneakers won't be extremely lacking in height and sole, but won't be as thick as the past sneakers have been. One great example of this ongoing trend are the Adidas Sambas, which sparked in popularity after supermodel and trendsetter Bella Hadid was seen sporting them all over New York City.
Crochet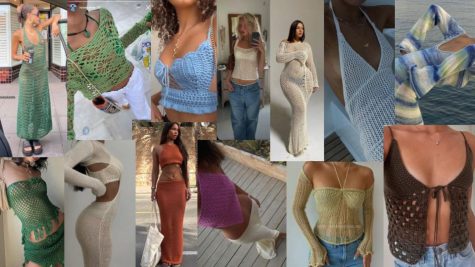 Crochet will be a staple in many closets this spring and summer season, with dresses, swimsuit cover ups, and various tops all made from crochet.With a 70's flare and a homemade charm, crochet clothing will fit the wardrobes of the city and beaches quite well.
Sheer/Lace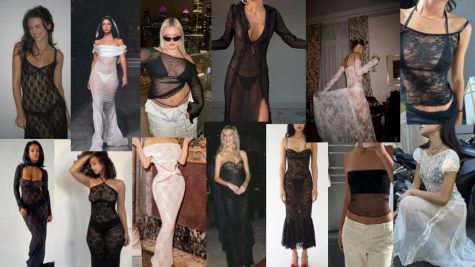 Practical? Not always. Cute? Absolutely. Sheer clothing will be a major trend this spring and summer, especially with the popularization of lace. The trend will mainly revolve around sheer dresses and tops, making it the perfect look for a late summer night or a stroll on the beach. Semi sheer clothing will also be seen a lot in stripes and lace.
Fringe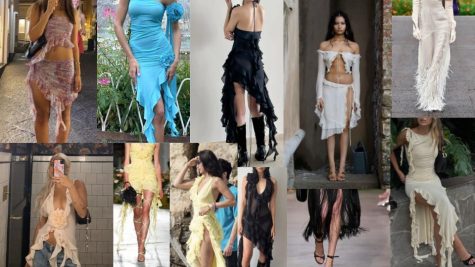 Fringing will be a popular detail adorned on some of the most elegantly crafted dresses this spring and summer. While many may think fringing's western and bohemian roots might ruin the appeal, this trend will include more ruffled fringe, often resembling flowers, making the trend much more appealing to the aesthetics of spring and summer.
Denim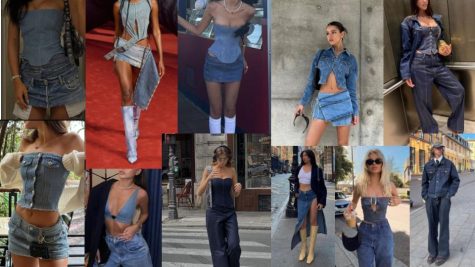 Apart from the classic pair of denim jeans that is a closet staple in most wardrobes, more reworked pieces of denim will see a rise in popularity. Denim sets, midi and maxi denim skirts, denim jackets, reworked denim tops, denim you name it, you'll see it on the streets of the most fashionable cities.