LTHS English teacher wins an exclusive invite by Citgo to the Boston Marathon
On April 25, around 30,000 individuals will finish an exhausting 26-mile marathon in Boston. Out of those 30,000 people, English teacher and Drama Director Dr. Laura Gilbert, will be running with them.
On March, Dr. Gilbert was surprised in her classroom with an arrangement of balloons and complimentary "running swag." Much to her surprise, she had won an invite to the 2019 Boston Marathon, awarded to her by Citgo. All expenses were waived by Citgo, who built a new stem lab on the first floor of East Campus.
Earlier this year, an email was sent to teachers which informed them of the opportunity Citgo was giving teachers. Teachers were instructed to write an essay that talk "about the impact the addition funded by Citgo has made on our school," says Dr. Gilbert. She described the ideal teacher for this scholarship as someone who "has a love and excitement for marathons."
Having ran her first marathon in 2010, Dr. Gilbert quickly fell in love with the sport, as it takes determination instead of a natural "coordination" many other sports require. Running and preparing for this marathon will be a treacherous journey.
"It is taking a lot of training. Currently, I am am working with the drama club for spring musical. Trying to fit the [drama club] in has been super hard," claims Dr. Gilbert. However, her drama kids seem to have an unlimited amount of support for her. "Last week when I was running in the fitness room, a group of drama kids showed up to run with me on the treadmills."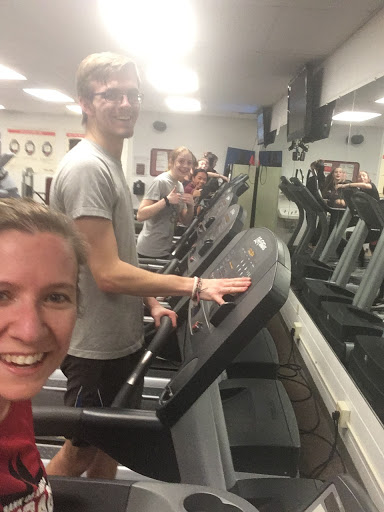 Dr. Gilbert will be bringing her parents along to Boston. "My dad will have the time of his life," she claims. "He's a marathoner too. I am super excited to take him and just share the experience with him."
About the Contributor
Emily London, Copy Editor
Emily is a senior at LTHS and our copy editor for the 2019-2020 school year. This is her fourth year in the club, and she enjoys writing and eidting features and student life articles. Emily is also apart...