Celebrating Hispanic Heritage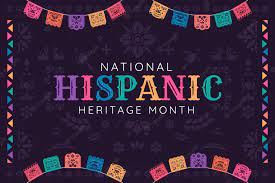 Written by Liz Torbett, Features Editor
September 15, 2022
Every year from September 15th through October 15th, America celebrates Hispanic Heritage Month. Throughout this month, Hispanic Americans celebrate their culture, traditions, art, music, and much more. This month spreads positivity and helps non-Hispanics learn about a beautiful culture. 
This national tradition started as Hispanic Heritage Week in 1968 under President Lyndon Johnson. After Johnson's term was over, the new president, Ronald Reagan, continued to grow this celebration. He made the celebration 30 days long, and on August 17th, 1988, the holiday was enacted into law as Hispanic Heritage Month. 
During this month you can do many things to celebrate. Shopping at local businesses run by Hispanics can give you the opportunity to try new foods, clothes, and see stunning art while supporting the owner's career. There are many exhibits to go to that showcase beautiful, impactful art. Another form of celebration can be education. Reading informational books about the hard times Hispanic Americans have had to go through can help you understand their cultural history. If you don't like to read, you can watch movies about Hispanic culture and tradition. These movies have many topics and age ranges, so they are helpful for younger kids, teens, and adults.
Every year the celebration has a new theme to encourage America to join in on the celebration. This year's theme is "Unidos: Inclusivity for a Stronger Nation." Unidos is a Spanish word that means united. This year, Hispanic Americans want to unite with each other and non-Hispanics to show everyone that they are proud of their culture and who they are. Hispanic Americans hope you celebrate and learn with them throughout Hispanic Heritage month this year and many more in the future.