Gender Sensitivity in the Colorado Shooting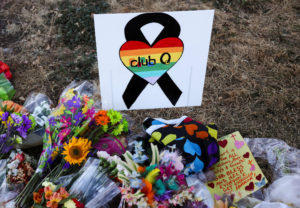 Written by Zoey Foss, News Editor
December 8, 2022
Five minutes to midnight, gunshots split through a club in Colorado Springs. For six minutes more, patrons struggled for their lives as the shooter continued firing. Unfortunately, shootings like this happen all the time in our country. What makes this one important enough to warrant media coverage?
This shooting is surprising in its complexity. The attack was located at Club Q, a gay club that served as a safe haven for many. If this was a simple matter, it would be condemned as a hate crime and legal justice would proceed. However, there's a very large complication: the shooter has come out as nonbinary.
Anderson Lee Aldrich has declined commentary on their motive for the shooting. Given the choice of target, it seems more than likely that this was done out of bigotry and not just a simple coincidence. Yet, a nonbinary gunman killing people because of their queerness doesn't add up. In my speculation, there are three possible answers.
One, Aldrich committed murder for another reason beside homophobia. This doesn't make much sense, though, because of the clear dedication to targeting Club Q. It remains a possibility nevertheless.
Two, Aldrich is homophobic and nonbinary. In this case, the crime could be from internalized views or something like jealousy, but without a detailed read on the perpetrator, it's hard to make a case for what it might be.
Three, a reluctant theory, Aldrich is lying about being queer in order to escape hate crime charges. There's no way to "prove" someone is queer, considering how deeply personal it is. Therefore, it's a very good tactic to avoid certain allegations. A former friend of Aldrich stated in an interview that Aldrich wasn't someone he wanted around his gay friends and that they had used an antigay slur in anger before. The evidence certainly doesn't favor the gunman. While I don't want to claim someone is faking their identity, I also think it's very convenient for this situation.
There's no way to tell for certain, maybe not even with a court decision, but it's certainly something to ruminate on. The queer community has been a welcoming and safe space for decades, and I have no doubt they will rise past this. But people like Aldrich bring no positive attention to an already marginalized group. We should all remember that their motive may be murky, but they won't shake the charges by taking up a label.