Tragedy Strikes at Michigan State University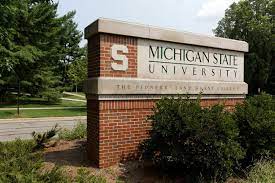 Written by McKenna Orrico, News Editor, Editor-in-chief
February 14, 2023
Students and parents around the country watch in terror as another University experienced a shooting that claimed the life of three students and injured a reported five more. On the night of Monday, February 13th, the Lansing, Michigan campus was sent into a state of emergency with the intrusion of confirmed 43 year old shooter, Anthony Dwayne McRae. Lansing and campus police have not yet been able to find a link between the alleged shooter and the university. The attacks occurred at two spots on campus, Berkeley Hall and the MSU Union building. The firsts shots were reportedly heard at 8:18 PM at Berkeley Hall where before campus police could respond, there were two fatalities and multiple injuries. Before the alert was issued to the students, the sight of the fleet could be seen from the Union Building, a place where students on campus were able to gather. 
The terrifying tragedy that occurred at Michigan State University is a calamity that has grown too familiar to the students of the United States. Students of Generation Z have been in school in fear ever since one of the first major school shootings of Sandy Hook Elementary School in 2012. One Michigan State student even went on the record to report she survived both tragedies. In her poignant video on Tik Tok, Senior Jackie Matthews took to the internet to give a candid look at the PTSD and trauma of living through two life altering massacres, both in a place where she, like other students, are supposed to be kept safe.
As for the foreseeable future, students will be grieving the lives of the victims Arielle Anderson, Brian Fraser, and Alexandria Verner. On behalf of the Porter Press, we send our condolences and wishes of strength and healing to the families of all three victims along with everyone affected by the horrifying attack on the students and facility of Michigan State University.