Lockport's Environmental Club!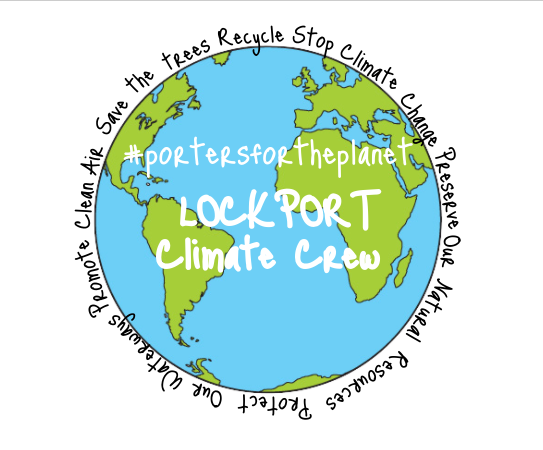 Lockport now has an Environmental Club! The club was organized for the first time last
school year (2019-2020), and is back again this year to further some initiatives. The overall goal of the club is to learn more about the dangers we as humans pose to the environment and lead events within our community to reduce Lockport's environmental footprint.
Within the club there are sub-groups that focus specifically on what students are passionate about, and it is through these sub-groups that they come up with most of the ideas and initiatives for the school year. Some of the specific groups focus on oceans, environmental legislation, microplastics, and biodiversity. If there is something you like that is not listed, they are always open to new ideas and knowledge. Each group forms a committee of around three people who work together to create informative videos and posters promoting the cause, and to brainstorm ideas for events Lockport can host.
For example, one initiative that is in the works is a collaboration between the environmental club and horticulture classes to promote creating environments that are welcoming to endangered and high risk insects such as monarch butterflies and bees. Plants such as milkweed and flowers like cosmos and sunflowers are great for monarchs and are easy to plant in home gardens (Illinois Monarch Project). The club is working towards having plants and seeds that are beneficial to butterflies and bees available to students and teachers to buy and plant at home. This small act of adding flowers to your garden at home can really help conserve a species that are being negatively impacted. The legislation committee is working on writing letters to representatives and they often find petitions online to be shared. The microplastics committee is working to organize plastic bag donations at LTHS and are hoping to be able to hold a recycling competition between the grades at LTHS when we are back in school full time. If you are interested in contributing to any of these projects, or have your own ideas, please let them know!
It is the overall goal of the club to spread awareness of environmental issues and help people become more conscious of the decisions they make and their impact on the environment. One example of making a more environmentally conscious decision is what phone case you choose. Around 1.5 billion phone cases are thrown away each year, which creates a huge amount of plastic waste. You can choose to buy phone cases like the ones sold by Pela, which are biodegradable. The phone cases are available to buy online and are just one way individuals can try to make a difference.
The club typically meets on Wednesdays at 2:30 on a google meet and new members are always welcome! To join the club you can email our faculty sponsor Ms. Jackson ([email protected]) or one of our student leaders Zach Dalton ([email protected]) and they will add you to the google classroom. The meetings are not long, as they like to get through what they need to talk about and then do any outside research on their own time. If you are passionate about the environment or want something fun to do each week, this is a great opportunity. If you do not want the commitment of joining a club, we still encourage you to research the environment and climate change as it is vital to the success of future generations.
Sources
"Eco-Friendly IPhone, Google and Samsung Cases – 100% Biodegradable." Pela Case, pelacase.com/.
"Be the Super Generation That Saves the Monarchs." Illinois Monarch Project, illinoismonarchproject.org/#1586813247530-70dda277-0b74.