LTHS Goes Wicked!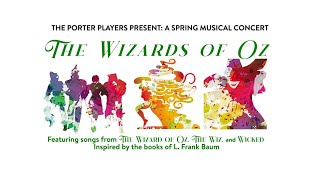 The Porter Players present a Spring Musical Concert featuring The Wizard of Oz. The concert showcased The Wizard of Oz, The Wiz, and Wicked! It was inspired by the books of L. Frank Baum. The performance took place Thursday, May 5th through Sunday, May 9th on www.lths.org. Subscribe to Porter Players Youtube and follow @PorterPlayers on Twitter for the ability to still watch it. Due to covid the cast had to be very flexible, and come up with new ways for all of the cast members to be involved in the production. Evelyn Moan talked about the difficulties there were with Covid, and the struggles of the cast having to quarantine during the rehearsals. She stated that so many were being quarantined, they needed to find a way for everyone to be included. Their solution was to have everyone pre-record themselves and then have it added to the video where you could see them acting out the scenes. Then there was a recording of them speaking their lines included in the video as well. They also performed many songs and dances from The Wizard of Oz, The Wiz, and Wicked.
Luckily, they were able to still produce a great show with all of the setbacks from this year. The show was directed by Dr. Gilbert and Ms. Musich, Mr. Goetz was the vocal director, Mr. Frykholm was the technical director, and Miss Jeni Donahue-Smith and Miss Carlson were the choreographers. Paige Svoboda; the assistant student choreographer, helped choreograph some of the dances which were excellent!  Norah Gilogly was also an assistant vocal director where she helped fellow cast members with their singing. She also performed "Popular" from Wicked. During the scenes the cast told the audience interesting information about the characters from the play, and more information about The Wizard of Oz. There were many facts about the author and the making/story telling of the Oz series which was very fascinating to learn about. There's a lot of appreciation to go around for the cast and directors. With all of the struggles this year has brought, they were still able to create a beautiful production. Reilly Bresnahan; the assistant student director, talked about how proud she is of all of their hard work. She went on to say how much the directors, the cast, and the tech crew put so much effort into the show. Overall the cast members, and backstage workers, and everyone working on the show did a phenomenal job with the production!
About the Contributor
Abigail Worker, A & E writer
This is Abigail Worker, and she loves to write. She is a freshman this year making this her first time with Porter Press! Abby expressed, "I'm really excited to be able to write about amazing things...