The Destigmatization of Mental Health in the World of Sports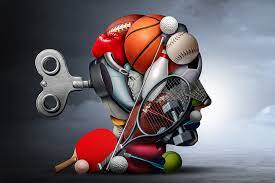 Simone Biles, Michael Phelps, Lane Johnson, Calvin Ridley, Delonte West, and Serena Williams all have one thing in common: they have publicly addressed their mental health. Athletes, professional, collegiate, and amateur alike have always struggled with mental health issues, but why has it only become the topic of discussion now? One of the possible answers is the historic stigmatization. The history of stigma surrounding athletes' mental health can be derived from the common ideology that mental health issues are a sign of weakness. To destigmatize, more and more athletes have been speaking out about their experiences and how they are coping. 
It may seem as if it only happens to professionals, but let's take a look at our very own athletes. To do this, a survey was made available to a wide variety of student-athletes. The survey highlighted the main topic of their mental health. Fifty-five students, 3.6% freshman, 40% sophomores, 29.1% juniors, and 27.3% seniors, took the time to answer the survey thoroughly. For background on the athletes, for school 72.7% play 1 sport, 21.8% play 2, and 5.5% play 3. The commitment does not stop here; 60% of the athletes play one travel sport, 3.6% play two or three. The athletes commit anywhere from six to thirty hours per week to their sports. This high level of commitment has left 87.3% of the participants feeling a stress level between five and ten while in season. These are student-athletes. With their title comes the responsibility to uphold their grades while also facing the pressure to perform at their best. With all this pressure and little time, 81.8% of the athletes suffer from anxiety, 72.7% experience chronic sleep deprivation, and 49.1% face social disconnect. With 50.9% rating their mental health below a five, the question must be asked: how are they coping with their mental health? The more frequent answers received were, being with friends and family, meditation, therapy, relaxation, sleep, healthy nutrition regimens, and being on top of their work. But, one answer struck concern; this was the response of "nothing" or "N/A". 10% of the survey participants had no outlet for their mental health. Without a health outlet, they will compartmentalize until it becomes too much. While the sport and school dynamic can be tough to manage, 85.5% still enjoy playing. This still leaves 14.5% who do not. When asked why, one respondee said that sometimes, "It feels too much like a chore" (Anonymous); others said it is too stressful and too much to handle. While 85.5% percent say they enjoy playing, 56.4% feel forced to play. The participants answered that this is because they have been playing so long they would not know what to do without it, making parents upset or worrying about wasting potential. Even though over half the participants feel forced to continue to play, only 47.3% have considered quitting.  Their reasons for not quitting are as follows: "dedication to my sport and team" (Anonymous), "Great opportunity to go D1" (Jenna K), "I know I would regret it" (Anonymous), and they are "scared of disappointment from my parents and coaches" (Anonymous). These are just a few of the responses submitted to this question. An overall trend by participants was the fear of letting parents, teammates, coaches, or most importantly, themselves down. This demographic tends to prioritize others rather than themselves. In order to be in control of your mental health, there are some times when self-prioritization is essential. Without the ability or resources to care for yourself, one will not be able to balance the student-athlete role long term successfully. 
Additionally, Coaches' mental health has been scarcely discussed in the world of athletics. Ten LTHS coaches answered a curtailed set of questions regarding their mental health. 50% of the coaches surveyed coached one sport while the other half coached two. This pool of participants included seven varsity coaches, two JV, and one freshman coach. The deep delve into coaches' stress levels and mental health has not been accomplished by many, so it is imperative to take this data seriously. While in season, all ten coaches experienced a stress level of five or above. With heightened stress, 80% of the coaches expressed they experienced sleep deprivation, 60% endured disorganization, and 40% were burdened with anxiety. These coaches address their mental health by prioritizing themselves during the season by exercising, self-care, social-emotional learning (SEL), listening to music, turning to religious sanction, and being around family and friends. Even though the coaches view their mental health as a priority, 30% feel that the school does not. All the coaches surveyed had ideas on how the school could do better, one of these being having "regular options for speakers and activities to focus on mental health" (Coach Feraluk), the school hosting "a night to get together for coaches to develop more comradery… occasionally it feels like we are on our own island and are separate from other sports" (Coach Pontow), and the opinion that "Teachers should not be required to do an extracurricular in their first four years of teaching. A new job is hard enough and then adding on late hours is stressful" (Anonymous) are just some of the ideas. However, it is essential to recognize why they coach. One of the participants stated that they "love working with the girls in the program and sharing my love and knowledge of the game with them" (Anonymous), and another states that she "loves the connection with the athletes" and that this "helps kids prepare for college and adulthood" (Anonymous). While they all love the game and the kids they coach, 50% have considered stopping. One says they already have "given up my fall sport because of time" (Anonymous), while others stay because of their love for the game and the kids they coach. A follow-up question was invited to the ten coaches: what do you do for your player's mental health? Common answers among the ten were days off, guest speakers, group talks, team bonding, relaxation and mediation, and positive growth work. But according to some coaches, there is still more that they can do. One coach writes, "I could do more frequent check-ins with my athletes" similarly, another proposes, "I can offer more mental health days, ask my girls what more they need or want from me, as well as possibly incorporate some SEL activities weekly!".
With both coaches and players stating that there is more than can be done to help one another, where is the disconnect? The disconnect between these players and their coaches is in the lack of communication. Unless someone communicates their emotional and mental needs to one another, no progress will be made. The more honest athletes are with their coaches and vice versa, the more we can move towards progress and lessen the stigmatization of mental health in the sports community locally. But, the conversation just does not end with coaches and athletes. For effective change to happen, the school needs to increase mental health awareness among its athletes. There are programs created for athletes' and coaches' mental health to allow for more in-depth and centralized education that both the coaches and athletes need. The University of Michigan implemented a program called ABOUT. The Athletic Department partner with the University of Michigan's School of Social work to create a program to assist the student athlete's journey with their mental health.
The more society addresses and sincerely acknowledges the mental health of professional, collegiate, and amateur athletes, the closer we can be to destigmatizing it. This change starts in our local schools and communities because the more conversations are had, the closer the sports community is to being respected and heard based on mental health.