LTHS Women Making a Difference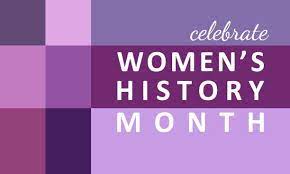 March is National Women's Month. This month, women worldwide celebrate the ones that make a societal impact throughout history. At such a pivotal time in our development, the young women in our student body look for role models to help guide them as they enter their adulthood. For this article, I sent out a survey to the staff and students of Lockport Township High School, so that they could nominate someone who they feel was a role model for people in our community. With the overwhelming turnout, I unfortunately could not take statements from all the nominees, so I reached out to the top eight.
Before I share the stories of these incredible women, I would like to honor all the nominees: Ms. Benito, Ms. Bochnak, Mrs. Catania, Ms. Chovanec, Ms. Fetherling, Ms. Jackson, Ms. Bloom, Ms. Kase, Ms. Lee, Ms. Nelligan, Ms. Pravda, Ms. Ratkowski, Ms. Roknich, Ms. Rolston, Ms. Singletary, Ms. Tatum, Ms. Visvardis, Ms. Weis, Ms. Westberg, and Ms. Williams. LTHS would not be nearly as incredible without all these wonderful ladies.
The eight popularly chosen nominees, Ms. Johnsen, Ms. Martin, Dr. Green, Ms. Sabo, Ms. Suca, Ms. Musich, Ms .Cobbett, Ms. La Porte, and Ms. Schmook, all answered a set of questions to get insight into what it takes to be a role model and what advice they have for the future generation of inspirational women. Many like Ms. Martin, Dr. Green, and Ms. Cobbett are not only faced with outside activities to fill their time, but all of them have to juggle the 7-3 with the job that never stops, being a mom. Learning to manage time for work and for one's family is not an easy job, but these ladies are committed to succeeding in both aspects. Ms. Martin detailed how she loves spending time with her sons exploring nature as she did when she was growing up with her family. With two daughters herself, Dr. Green is busy watching her daughters be active in the sports community. While also taking care of her family, Ms. La Porte is busy furthering her education, finishing up her doctoral studies in May and also Co-Sponsoring the Junior Class. Sponsoring clubs at school is a big part for nominees Ms. Johnsen and Ms. Schmook. Ms. Johnsen spends hours coaching activities like Speech and badminton while Ms. Schmook helps her kids in American Sign Language club learn the importance of giving and self discovery. Passionate for helping others, Ms. Musich helps the kids in the theater with their numerous productions throughout the year. When not spending time with her grandchildren, Ms .Suca is greeting the kids of the freshman center with a smile.
All these women are so busy dedicating endless hours to others, so what keeps them motivated? Many respondents emphasized the importance of education and being able to not only teach students, but also to be able to learn from the ones around them. Ms. Musich explains how she has come across "some absolutely life changing teachers in my life that made me realize just how powerful education and educators are. Because of this, I always knew I wanted to be a teacher and that I wanted to continue to share the power of education with future generations." Ms. Suca's motivation is to be what she needed growing up for other students; this mindset of giving back is also seen through the words of Ms. Cobbett as she touches on the importance of giving back to a profession that has done so much for her. Others talk about the amazing opportunities that the school has provided for them and the liveliness that the staff and students radiate everyday.
Women's Month is all about honoring the ones that came before you, so to honor those women, the respondents chose women that have inspired them throughout their lives. Many recognize family members like their mothers, grandmothers, aunts, cousins, etc that have taught them valuable lessons and who they are still learning from to this day. Other LTHS staff members like Dr.Cristofaro, Mrs. Chovanec, Ms. Lee, and Ms. Singletary all have served as professional and moral compasses for Ms. Cobbett and many others. Celebrities and music artists like Taylor Swift and Kelsie Ballerini have taught Ms. Johnsen how to navigate through the potential hardships of life.
As the young women of LTHS enter the real world after high school, the role models want to leave you with some words of wisdom:
"Be active in your community, be a positive role model, follow your dreams, and have no regrets"- Ms. Martin
"There is always a way to reach your goal. You may have to get creative, or take a different path, or adjust your timeline, or turn around and retrace some steps, but there is always a way. Don't be afraid to ask for help! People will want to help you succeed!"-Ms. Musich
"Young women need to be confident in their choices and who they are. Believe in yourself and know that every day is a good day. Some days you just have to look a little harder. Every morning you get a fresh start and an opportunity to start over so make the best out of every minute."- Dr. Green
"Please be yourself, be confident, and never stop learning about yourself, life, and the world around you. Chase your dreams and believe in yourself. -Ms. Schmook
"Don't let anyone dull your sparkle! Be your unapologetically beautiful self and don't let the barriers of the world bring you down."-Ms. Johnsen   
"No matter what you are experiencing in your life now, it will change. Whether the change will be good or bad is up to you. There are many good people in the world that will help you achieve your goals, the first step is asking for help. You are worth it."- Ms. Suca
"I would recommend really looking into as many different professions as they can. You do what you know. I happened to fall into a career that I love and a career where I can live the kind of life I want, but many women end up in situations where they lack power because they do not make enough money in their jobs. Look at the guidance department resources on college and career, take different types of classes, go on college tours, etc. Be able to support yourself even if you are in a relationship like a marriage in the future, you should be able to make life choices without having to worry about another person's income."- Ms. Cobbett
"Difficult things will be difficult, but that doesn't mean that they aren't worth doing. Motivation, strength, drive – all of those aspects of your work-ethic come from within and stem from the goals that you set for yourself. Be someone who is worth looking up to, because people are always looking."- Ms. La Porte
This month we honor the women who have paved the way for future generations helping them discover who they are and who they hope to become. The women featured in this article make an active effort everyday to be someone who students, staff, and other people in the community can look up to. We all hold the power to be a good role model for someone whether it is one person or a whole student body. Let us learn from the people around us and do great things in the world so we too can serve as a role model for the ones that will come after us.