Choir in the Fall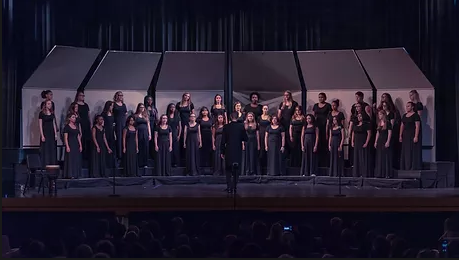 Do you like listening to music? In the car, in school, with friends, or even by yourself? Then you would love to see a choir performance!
Lockport's fall choir concert is slowly creeping up and will come before you know it. The students in choir are working very hard to learn and memorize various pieces of music in time for the fall concert on October 6th at 7:00 p.m. Before you attend the choir concert, you should know what each choir is about: 
There are five different curricular choirs. The first is the A Cappella Choir. A Cappella Choir is a mix of curricular ensembles in Lockport's choral program and it's open to sophomores, juniors, and seniors. The students in this choir are very knowledgeable in music reading and have excellent voices. They perform a wide variety of advanced choral pieces, ranging from classical to modern pop pieces, all of which sound beautiful. 
The second curricular choir is Bel Canto. Bel Canto is a treble voice choir. This choir consists of sophomores, juniors, and seniors. Students in this choir can learn music theory, sight reading, and work on their vocal abilities. This choir performs a variety of collegiate level choral arrangements. They participate in several workshops and festivals.
The third choir is the Encore Choir. This is an all men's choir. The students in this choir range from sophomores to seniors. This is a relatively new choir at LTHS. They are an upbeat choir and have very strong voices. They perform a variety of interesting choir pieces at concerts. 
The fourth choir is the Concert Choir. Concert Choir is a treble choir with Soprano, Soprano II, and Altos. This choir is open to all sophomores through seniors interested in choral music. Their music is very calming and pleasant to listen to. This choir performs several body percussion pieces as well as other traditional pieces.
The fifth and final choir is the Freshman Choir. Of course, the Freshman Choir is only open to freshmen. This choir is a mixed chorus of freshmen that study and perform a variety of different vocal music. The students in this choir learn to develop an understanding of a variety of musical styles, improve their singing voices, and learn how to read music at a basic level. They perform in the fall concert, holiday concert, spring concert, and the big show.
Although there are multiple different choirs, there is one thing they all have in common: the love and dedication to music. These amazing choirs have worked so hard and would love to see you come and support them this fall!